Doesn't it get pretty uncontrollable to stop when we sit for our meals? Unannounced hunger pangs are always ready to let us grab more and gain weight with an addition of a large chunk of calories. And we completely leave WEIGHT LOSS EXERCISE somewhere at the back of our minds! 
 Many people are bothered about how they appear and how much they weigh. There is another a completely new set of struggles related to being overweight or obese, to which many folks can relate to in today's times. 
All women desire to shed extra kilos and wish to have a slim and curvy body. The saddest part? Many of us set a goal but fail to proceed with the fitness journey in the long run. And the lack of Weight Loss Exercise keeps us far away from our determined targets!
If you're a woman with an all-time dream to become fit and lose weight, you might be thinking of various ways to get in shape. Changing lifestyle takes time and fulfilling the commitment made to practice the Weight Loss Exercises can be really tough for you.
Amongst the wide array of WEIGHT LOSS EXERCISES FOR WOMEN, it might get difficult for you to choose WHICH EXERCISE IS BEST FOR WEIGHT LOSS! Also, fixing a fruitful WEIGHT LOSS EXERCISE PLAN is almost impossible without the guidance of experts.
So, here's for you the amazing tips of HOW TO LOSE WEIGHT FAST
–
1-
WALKING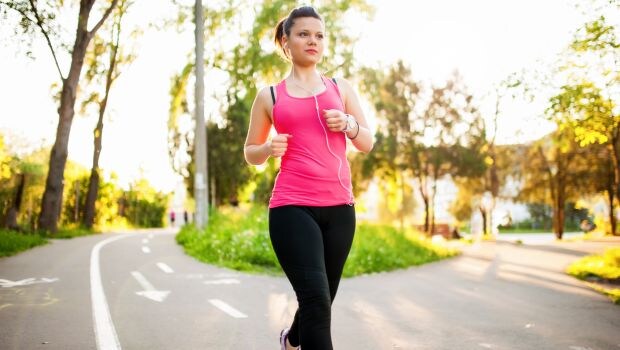 Is walking even a form of Weight Loss Exercise? Yes, it truly is! You might not take it seriously, but Walking is the easiest one you can follow at any age, in any circumstances, isn't it? You walk to go to the market, office, and even to the gym.
You are doing it almost every time, but do you make sure whether it's done with appropriate intensity or not? We, here with walking, are not taking into concern that leisurely stroll you go for. If you want to zest things up a level higher, attempt walking up stairs or just opt for a brisk walk!
Walking up to 1.6km can help you burn about 100 calories! Extending up to 8-10km will let you burn something around 500-800 calories. So, it completely depends on you how you take it on an entirely new level. 
Moreover, it's easy to walk. Give your vehicle some time and go walk wherever you need to reach the next time!
2-
SQUATS
Is your lower body a little more stubborn and not willing to transform? Squats will definitely work for you! This fantastic Weight Loss Exercise impacts right above every muscle in the lower body. Be it your thighs, glutes, hips, or calves, all get toned with magical Squats!
You might be doing Squats regularly without noticing. So, do it now knowingly by adding it into your workout, today. The best way to complement functionality to your training is now here!
3-
PLANKS
This is a popular way of cutting those carbs and toning those abs with arms of yours. All that accumulated fat is easy to get rid of with Planks- an effective Weight Loss Exercise. It's important to start with an exercise plan as per your body type to shape yourself the best way possible.
 It stabilizes the muscles and warms up the body at the same time. From walking to lifting, everything needs perfect core strength. Where to get that from? Planks are possibly the right answer! 
4-
RUSSIAN TWIST
Sounds already amazing! If you've had enough of the fat on your belly and sides, practicing Russian Twist would be a smart decision. Regular exercise of this incredible WEIGHT LOSS EXERCISE will ultimately result in increasing your endurance.
You can use swiss balls to hold between your hands while indulging in Russian Twist. It will anyhow advance the intensity of your workout. So, what are you waiting for? Rush to your NEAREST GYM or FITNESS STUDIO and sweat out with expert trainers!
5-
BURPEES
Doing the Burpee for the first time might make you think what big chaos it is. But, it is one of the most miraculous Weight Loss Exercise that burns fat as speedily as it builds muscle. It is a good combination of both Squats and Push-Ups, so you can now evaluate the rewards it can give you.
Burpee is a powerful EXERCISE FOR WEIGHT LOSS where you jump, squat, stretch, and perform a lot of fast movements. So, if you want to lose weight as soon as possible, add Burpees to your training session and fetch for yourself tons of health benefits!
Physical Exercise is vital in everyone's life, no matter what your age is. But, there are some key points you need to keep in mind while indulging into any Weight Loss Exercise!
Few essential WEIGHT LOSS TIPS that'll satisfy your calorie-blasting requirements
–
Start with small

Avoid skipping your meals

Imagine the 'transformed you' after putting efforts in the workout

Grab some fruit popsicles if you want a quick snack with low calories

Kill the food cravings coming randomly out of nowhere 

Find a friend to accompany you to the fitness studio

Wear slimming clothes to stay alert of losing weight
So, these were some basic but sound tips that will shape you the way you're aspiring to be! Go through them well before you kick-start with Weight Loss Exercise!
It usually takes a long time for WOMEN TO LOSE WEIGHT in comparison to men. So, be patient and make small changes into your routine for big results. When you're looking forward to amazing results, get FITPASS APP downloaded on your mobile phone!
FITPASS will always strive to let you meet professional fitness trainers at the best GYMS NEAR YOU.